Posted May 4, 2022
On May 4, during The Knowledge Graph Conference (KGC) 2022 held at Cornell Tech Campus in New York City, Rensselaer Polytechnic Institute (RPI) Professor Deborah McGuinness was awarded a Lifetime Achievement Award, recognizing her contributions in semantics and knowledge graphs.
Dr. McGuinness is an Endowed Chaired Professor at RPI with appointments in Computer Science, Cognitive Science and Industrial and Systems Engineering, as well as serving as the co-Chair of the Tetherless World Constellation (TWC), Founding Director for RPI's Web Science Research Center and Director of Health Analytics for RPI's Institute for Data Exploration and Applications (IDEA). She has a longstanding history of leadership in Semantic Web research, bridging Artificial Intelligence (AI) and eScience, and making significant contributions to the AI community. With her teams, she has designed and deployed applications in a wide range of areas ranging from health informatics, personalized medicine, environmental ecosystems, manufacturing, configuration, materials design, drug repurposing, smart product design and intellectual property litigation.
KGC 2022 took place from May 2-6, 2022 as a hybrid event. Attended by more than 800 individuals, the event brought together numerous speakers and partners who collaborated with the audience during numerous workshops and tutorials, including a Healthcare and Life Sciences Symposium organized by Dr. McGuinness and several other senior staff from RPI and IBM. Founded at Columbia University in 2019, The KGC is emerging as the premiere source of learning around knowledge graph technologies as it unites leaders across industry sectors to cover the latest in innovation and adoption of knowledge technologies in finance, healthcare, drug discovery, privacy, cyber, media, education, supply chain, inventory management, e-commerce, personal knowledge graphs, visualization, recommender systems, law firms, real estate, and much more.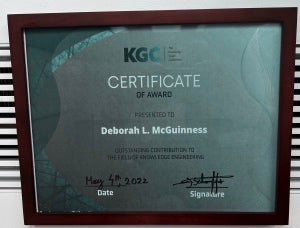 View Dr. McGuinness' acceptance speech.