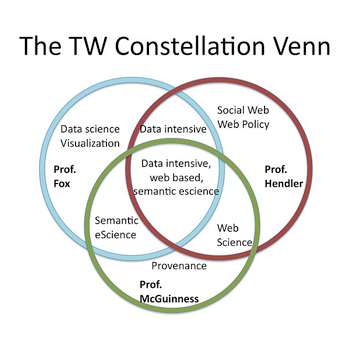 The Tetherless World Constellation (TWC) at Rensselaer Polytechnic Institute (RPI)  is a multidisciplinary research institution that focuses on the study of theories, methods and applications of the World Wide Web within three inter-connected themes or "Constellations": Future Web, Semantic Foundations and Xinformatics.  TWC is led by Professor James Hendler and Professor Deborah McGuinness and is supported by faculty members, research scientists, administrative staff and students at the postdoctoral, graduate and undergraduate levels. Together, these individuals explore the research and engineering principles that underlie the Web and develop new technologies and languages to ultimately expand the Web's capabilities, all with the common goal of supporting the basic social values of trustworthiness, personal control over information and respect for social boundaries.
Specific topics of research within TWC include but are not limited to:
Semantic Web technology
Knowledge provenance and explanation
Privacy, policy, and workflow transparency
Tetherless and mobile Web access
Trust, Social networking and collaboration technologies for the Web
Network-centric concepts for the defense, industrial and intelligence sectors
Cyber-infrastructure in general with initial focus on eScience cyberinfrastructure
Ontology management, evolution, and use in diverse disciplines
Ethical, policy and social aspects of Web use and usability
TWC is organized under the Office of the Provost at RPI and is part of the Rensselaer Institute for Data Exploration and Application.  It also includes the Web Science Research Center, one of the ten founding international laboratories within the Web Science Trust Network.