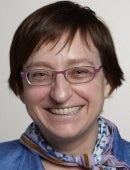 Ms. Kovatch is the founding Associate Dean for Scientific Computing at the Icahn School of Medicine at Mount Sinai, joining in October 2011. She established a scalable and sustainable high-performance computing infrastructure, emphasizing a collaborative approach partnering computational experts with Sinai's scientists to tackle complex scientific questions to better diagnose and treat disease. In 2014 she was awarded a $2M NIH grant to build a 5 Petabyte Omics Data Engine.
She initiated a graduate curriculum in Scientific Computing and Biomedical Informatics. Research and development activities include improving neurosurgical virtual reality simulation environments, cloud computing and markets, and a statewide consortium to accelerate data-intensive science. She also manages teams with significant data-rich research and clinical resources: the Mount Sinai Data Warehouse, Research Data Services and WTC Data Center groups. She serves on the Board of Directors for NYSERNet and the Board of Advisors for the M.S. program in Business Analytics at Rensselaer Polytechnic Institute.
Prior to joining Mount Sinai, Kovatch built and led the $75M National Institute for Computational Sciences of the University of Tennessee, Knoxville, located at Oak Ridge National Laboratory. She deployed the world's third fastest machine in November 2009, a 1.17 petaflop Cray XT5 for the National Science Foundation and published research on wide area parallel file systems and scheduling.